Helping You Through Life's Changes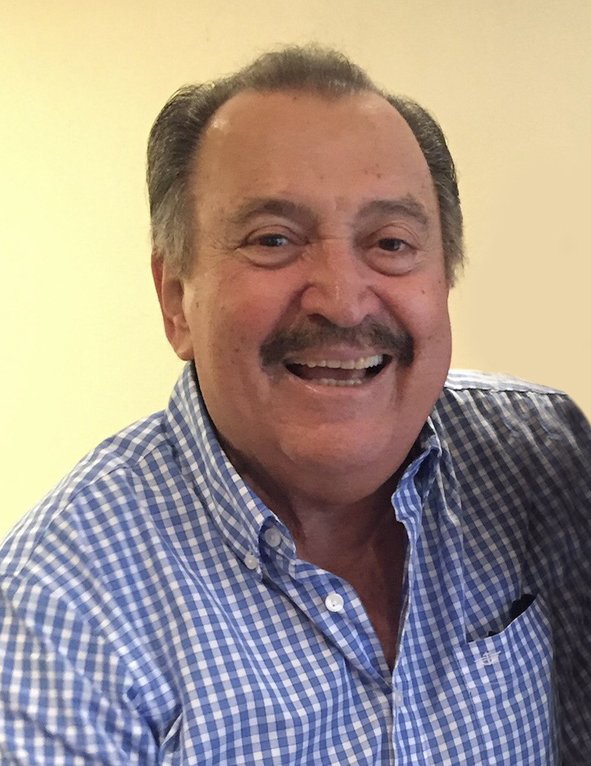 Obituary of Anthony "Tony" George Petroutsas
Tony Petroutsas told us his last story on October 29, 2019 while asking his children to pull his finger one more time. The second in a line of five boys born to Kyranna (Anna) and Georgios Petroutsas, he was known as the "whirling dervish" of them all. With his first pair of shoes and a small cardboard suitcase in hand, Tony arrived in the United States through Ellis Island in 1952. He began his journey to fulfill the quintessential American dream with hustle and drive. Working his way from the East Coast to California, he created his new life collecting glass bottles on the boardwalks of the Jersey Shore, mopping the dish pits of New York and perfecting his English as an usher in the movie theaters of Wilmington, Delaware. He eventually made his way to the San Francisco Bay Area with a slick pompadour, chinos and a twisted moustache that made women swoon. It was during this time that he became a self-proclaimed "girl watcher" with a keen eye for the ladies wearing red lipstick and a certain boom-chicka-boom.
Born just before the inception of World War II, Tony was orphaned during the Greek Civil War and saw more than his fair share of rough days which resulted in a life lived to its fullest. He enlisted in the Navy and served his country in Vietnam aboard the USS Midway feeling he got the better end of the deal as he was guaranteed a safe place to sleep and three meals a day. This scoundrel was foolishly allowed to join the Masonic Lodge in the 1960's claiming the brotherhood helped him forgive his enemies while simultaneously keeping him out of jail. Always feeling he was a lucky son-of-a-gun to have made it this far in life, Tony helped anyone that came across his path. He told wild stories*, imparted unsolicited advice and shared the remarkably inappropriate and most intimate details to anyone who would listen.
Aside from an endless supply of Starbucks cups, "quality" napkins and numerous other collections of fantastically useless treasures, he leaves behind four children: Johnny Pengelly** (who he loved the longest), Anna Babiolakis (who he loved the best), George Petroutsas, (who he loved the strongest) and his termite, Bessie Petroutsas (who he loved the most). He will be missed by his new bride Maria Hiotis, son-in-law George Babiolakis, daughter-in-law Zoee Petroutsas, numerous grandchildren and great-grandchildren all of whom will be relieved to no longer have to reprogram his phone, iPad, hearing aids and remote controls. Also left to keep his memory alive are his brother, The OG, Jimmy Petroutsas, sister-in-laws Eleni and Theodora Petroutsas and his nieces: the beloved Anna Hadjipateras***, Sophie (Tsoufitsa) Pateras and Medium Anna Tassos Petroutsas.
Tony will be reunited in spirit with the love of his life, Cathy Petroutsas (to whom he will have a lot of 'splaining to do) and his younger brothers Kostas, Pete and Tassos Petroutsas.
If you knew or loved Tony, if he ever kissed your red lips, lent you money, paid your college tuition, let you pull his finger or fell victim to any of his antics, please feel free to repay the favor by making a donation in his honor to the Kyparissioton Schoolchildren's Fund to benefit the local school in Kyparissi where Anthony attended the third grade and was busted for gambling with a handmade deck of cards. Contributions can be made at: fundly.com/ky-schooldchildren-s-fund-in-memory-of-anthony-petroutsas
His family invites you to celebrate his life and keep his memory eternal. The Trisagion Memorial Service will be held at Prophet Elias Greek Orthodox Church in Santa Cruz on Sunday, November 3rd at 6:00 pm. Funeral Services will be held on Monday, November 4th at 11:00 am with burial at Santa Cruz Memorial Park, followed by a Makaria luncheon at the Prophet Elias banquet hall.
________________
*Consider yourself to be a part of his close inner circle if you know about the time he heard a rabbit "meow", The Christmas Miracle where he awoke with the angelic singing voice of a choir boy, any of his inventions/predictions/or near death experiences or how he came to be a Scorpio born in January.
**There is a great story here, it involves a woman who danced like a mermaid. Bring a bottle and pull up a chair, we'll tell you how it goes.
***Who has finally forgiven him for thinking that tying her by a rope tethered to his foot while the young bachelor napped in the park was an acceptable form of babysitting.
To send flowers to the family or plant a tree in memory of Anthony "Tony" Petroutsas, please visit Tribute Store
Trisagion
6:00 pm - 7:00 pm
Sunday, November 3, 2019
The Prophet Elias Greek Orthodox Church
223 Church Street
Santa Cruz, California, United States
831-429-6500
Funeral Service
11:00 am - 12:00 pm
Monday, November 4, 2019
The Prophet Elias Greek Orthodox Church
223 Church Street
Santa Cruz, California, United States
831-429-6500
Graveside Service
12:30 pm - 1:30 pm
Monday, November 4, 2019
Santa Cruz Memorial Park
1927 Ocean Street Ext.
Santa Cruz, California, United States
Makaria Luncheon
The Prophet Elias Greek Orthodox Church