Recommend Dewain's obituary to your friends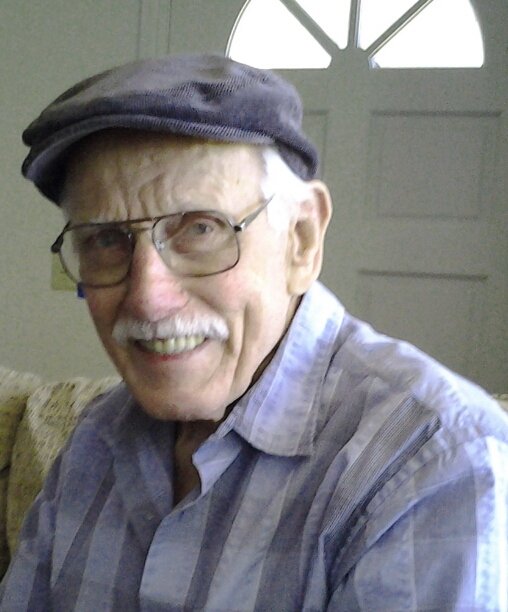 Obituary of Dewain H. Hagen
Dewain H. Hagen passed away in Santa Cruz on July 8, 2019 at the age of 97.
Dewain was born in Hill River, Minnesota and was the youngest of four siblings, born September 10, 1921 to Ole and Sarah Hagen. The family lived in Fosston, Minnesota and soon after moved to Redwood City, California.
Dewain graduated from Sequoia Union High School in 1939, afterwards he enrolled in college classes. Before he could finish there was a call to arms. He served in WWll as a medic stationed in the Aleutians and was honorably discharged in 1946.
Upon returning he met and dated Janet Forsberg for two months before asking for her hand in marriage. Together they raised three children Jeffrey, Stephen and Karen. In 1952 the family settled in suburban San Mateo.
Dewain along with a partner started a contracting business called "The Two Danes" in the San Francisco bay area, replacing wooden windows with the newest and popular window material, aluminum. He was a skilled carpenter and he enjoyed 35 years of a successful business.
Dewain's passion was being involved in so much of Jeff's and Steve's lives. He was their Scoutmaster; during this time he guided and enlightened many young lives. As his sons moved through the ranks of scouting, so did he. Dewain was the Cub Scoutmaster and then Boy Scoutmaster of Troop 32.
He enjoyed the seasons by camping and fishing whether with the troop or just with the Hagen boys. His love to be with his sons did not stop there. Popular in the sixties was slot car racing, together they raced their self -built cars for cash prizes and trophies. To this day he still has his slot car box with various controllers and cars ready to go.
Dewain held a special place in his heart for his daughter Karen. He was a great teacher and advisor to Karen. He taught Karen how to paint, how to garden, and served as a role model for her when it came to boys. He was able to maintain his health through Karen's healthy cooking. He enjoyed the times he spent with Karen at her family gatherings in her home.
Dewain loved sports. Growing up with two older brothers gave him a competitive spirt. He loved to play basketball, horseshoes, weight lifting, tennis and especially bowling. Dewain was on several bowling leagues in Santa Cruz and San Mateo. One of teams at the Boardwalk Bowl was called "Hagen's Heroes". At 95 years old, he was still making strikes and spares, watching the Warriors on TV and reading his tennis magazines.
Dewain enjoyed collecting and working with new and used tools. Throughout the years he collected a sizeable collection of hammers and hand saws. He would always ask the question of, "Is your saw sharp?" Whatever it took, his work would sometimes be timely because he made sure he did a perfect job. Whether it was building construction, landscaping or repairing a car or truck, he was a "jack of all trades".
Dewain's heart was pure gold. Dewain loved to tell a joke. Desperately trying not to smile, Dewain would give himself away with slight twitching of the lip. He was a caring and dedicated family man. Throughout his lifetime he made numerous financial investments that enriched the family. These traits have been engrained in his wife Janet, his children and grandchildren.
Dewain is survived by his wife of 73 years Janet, his two children Stephen and Karen, grandchildren Kristina Candelario of Ohio, Brad and Brittnie King of Santa Cruz, Terra Rossetto-Hall of Idaho, numerous great grandchildren, nephews and nieces. He was preceded in death by his parents Ole Hagen and Sarah Schottler, his sister Silva Cheli, his brothers Elmer and Floyd Hagen, his son Jeffrey W. Hagen, his nephew John A. Hagen and grandson Jared J. Rossetto. The loss of Jeff, John and Jared at such young ages broke his heart.
Services will be Thursday August 15, at 1 p.m. at the Santa Cruz Memorial Mission Chapel 1927 Ocean Street Santa Cruz, CA. A reception will follow 2 p.m. to 4 p.m. at the Back Nine Grill at Pasatiempo Inn.
To send flowers to the family of Dewain Hagen, please visit Tribute Store
Memorial Service
1:00 pm
Thursday, August 15, 2019
Santa Cruz Memorial Mission Chapel
1927 Ocean Street Ext.
Santa Cruz, California, United States
831-426-1601
Reception
2:00 pm - 4:00 pm
Thursday, August 15, 2019
Back Nine Grill
555 Highway 17
Santa Cruz, California, United States
831-423-5000