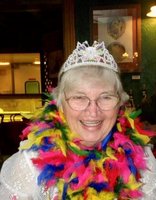 Gale Geurin
Gale Wilhelmina Geurin, after 2 ½ years of cancer treatment, passed away peacefully in her home surrounded by family & friends, under Hospice care. An incredible light to all who know & love her, she touched so many with her love, laughter, generosity, sharp whit, gentle kindness, & delicious baked goods.
Gale was born in Desoto, IL, spent most of her youth in Springdale, AK, & graduated high school from Pomona High. Gale married Charles Donahue shortly after high school. They raised 4 children together in southern California. Shortly after her last child was born, Gale joined the U.S. Air Force. As a Sr. airman, she helped keep our country safe, and was proud of her service. Gale married her 2nd husband & best friend, Arvy Geurin in 1979. They were married until his death in 2012.
Most important to Gale is her family. She never needed a bloodline to hold you as family. She has left an incredible impression on her family's life, & a hole in our hearts. Preceded in death were her daughter, Charlene Lawler, & grandson, James Lawler. Her sister, Daisy Shepherd, survives Gale. She is also survived by her children & their spouses; Charles Donahue, Charlotte & Guy Thornbrugh and their children, Lance & Chance, Scott & Juanita Geurin and their children Scott & Roxanne & their niece Manerva Banuelos, Charlynne Donahue-Muse & Mike Muse, & their son Ash, Jill & Jason Kennedy, and their daughter Liz. Special thank you to her friend, Sue Thornbrugh, who always kept a warm blanket on her. She is also survived by many more who called her grandma.
Family and friends are invited to a visitation at Oakwood Memorial Park, 3301 Paul Sweet Rd. Santa Cruz, 95065, Friday, Dec 20 from 2pm-5pm. Visitation from 9am-10am Saturday, Dec 21, funeral service to begin at 10am with a burial to follow. A reception will be held 750 Bay Avenue Senior Apts, Capitola, California in the community room.
In lieu of flowers, please consider a donation Hospice Santa Cruz County.