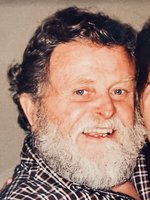 Leon Dunn
James Leon Dunn passed away peacefully at the age of 82 on Friday, December 6, 2019 at his home surrounded by his loving family. Leon was born and raised in Santa Cruz, and following his graduation from Santa Cruz High School in 1955 he went to work alongside his father at James Dunn & Co. Inc., learning the cement trade. Leon also served with the Sea Bees for two years after graduating high school. Leon went on to become a cement contractor, eventually taking over James Dunn & Co. Inc., then later went to work for Bogard Construction as an Operating Engineer. Some of his notable cement projects are located at the Boardwalk and Municipal Wharf, where you can still find his business stamps in the concrete. Leon also co-owned and operated Sutters Fort Self Storage in Santa Cruz. He loved classic cars, especially his '56 Chevy Truck and '66 Mustang. He enjoyed car shows and going to the races at Laguna Seca. Leon was an avid sports fan and loved rooting for his favorites, the 49ers and Warriors, even attending Super Bowl 50.
Later on in life after overcoming his alcohol addiction, Leon became a Christian. He went on to spend the last 37 years of his life giving back to his community by helping others who struggled with similar addictions. He was an active member of his church, Christian Life Center, serving on the Board and volunteering for various outreach events. He was involved in numerous mission trips with his church as well as Assist International; which included humanitarian trips to Uganda, Ivory Coast, Romania, Mexico, Venezuela and Nicaragua.
Leon is survived by his loving wife of 53 years Silvia Dunn (Giannini); his daughters, Carrie Brown (Scott) and Juliane Dunn, along with his three grandchildren; Kaitlyn Brown, Tyler Brown and Dylan Lee. Leon was preceded in death by his parents, Jim and Bea Dunn and his in-laws, Nello and Angela Giannini.
A Celebration of Life for James Leon Dunn will be held at Christian Life Center, 1009 Mission Street in Santa Cruz on January 25, 2020 at 1:00 p.m. In lieu of flowers, donations can be sent to Assist International, P.O. Box 66396, Scotts Valley, CA 95067.