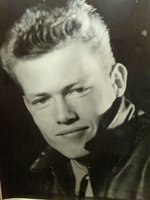 John Allan Deck
John Allan Deck passed away at home in his reading chair in the early afternoon of October 28th. He was 88 years old.
Born in Compton, California in 1931, John served in the US Navy during the Korean War and said the military experience inspired him to pursue higher education. The first in his family to attend college, John received a master's degree in Creative Writing from San Francisco State University. He published several fiction and nonfiction books and numerous short stories. He won various writing honors, including a National Endowment for the Arts literature fellowship. One of his stories appeared in the anthology Best Short Stories of 1968. His other writing work included reviewing books for The New York Times and spending 15 years as a technical writer and manager at Hewlett Packard. An avid reader and writer, John took great pleasure in his imagination, and in exploring the world through travel and the written word. He never stopped writing, and was working on a short story at the time of his death.
John and his family settled in Santa Cruz in 1971. There he found a welcoming community that shared his love of the arts and enjoyment of beauty and learning. Over the years, John and his late wife Harriet were deeply involved with numerous local charities. Handsome, creative, funny, and forever a gentleman, John will be greatly missed.
He is survived by his two daughters, Caitlin and Amalia, grandson John "Jack", son-in-law David Fagan, and by many, many friends and family. John was preceded in death by his wife Harriet, brother David, and parents Carroll and Myrl Deck.
A memorial service will be held at a future date. In lieu of flowers, donations in his memory may be made to the Jewel Theater, Santa Cruz Symphony, Housing Matters, Kuumbwa Jazz Center or the Santa Cruz Public Library.