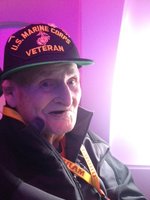 John "Grube" Gruber
John Gruber, 98, passed away peacefully in Brentwood early in the morning on October 14. John was known by all as "Grube". John was born and raised in Black River Falls, Wisconsin where he earned varsity letters in football, wrestling, boxing, and gymnastics in high school. He was most proud of his service with the Marines during WWII. John enlisted in June 1942, and was honorably discharged October 24, 1945. Serving 2-years in combat in the Mariana Island chain as an AA Machine Gun Crewman. After separating from active service at NAS, Tillamook, Oregon he met and eventually married Virginia Claire Sander and moved back to Black River Falls where he lived for two years before settling in Santa Cruz California.
While in Black River Falls, John was a police officer and professional wrestler traveling from town-to-town on the weekends. Once in California, John worked in construction before he became a tanner at Salz Leather Company, in Santa Cruz, California.
Throughout his life he enjoyed hunting, judo, weightlifting, his many friends at Sir Froggy's Bar, and most recently at Harvest Park Bowl, in Brentwood after he moved from Santa Cruz in June, 2018.
John is preceded in death by his parents, John A. & Lena Gruber, wife Virginia Claire Gruber, fellow Marine and eldest son John Nicholas Gruber Jr., and eldest daughter Kathleen Strang.
He is survived by six of his children; Charleen Lam, Patrick, Michael, Maureen Clark, Daniel, Timothy, and seventeen grandchildren.
He will be missed for his sharp wit, service to his country, and story-telling from his long life.
John will be buried at the Sacramento Valley National Cemetery, in Dixon, with full military honors on November 22nd at 11:30 AM. A celebration of John's life will occur at Harvest Park Bowl, in Brentwood on Saturday, November 2nd from 2:00 – 5:00 PM. In lieu of flowers, contributions can be made to non-profit Shared Adventures(in memo line 321life+1Project). P.O. box 396 Santa Cruz, CA 95061.