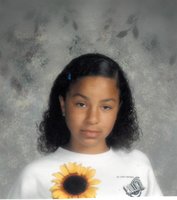 Tyara Letavie Womack
Tyara Letavie Womack died unexpectedly on Friday, October 11th, at Dominican Hospital Santa Cruz from medical complications related to Type 1 Diabetes Mellitus. At age 34, it is incredibly sad to lose someone so young. Diagnosed at age 8, Tyara suffered greatly due to the life-altering responsibility that having this devastating disease brings to millions. Her hospitalized days totaled almost a full year of her young life. Most people can conquer a disease like Diabetes and live long and healthy lives. Tyara despised the disease but somehow found a way to deal with the daily impact it had on her young life and still managed to bring her upbeat spirit to all those she touched.
Growing up, she was dramatic in nature and became involved in community theater, once playing the role of the Queen of Hearts in a local production of Alice in Wonderland. Friends would say she was born to be a comedian or actress someday. For those who knew and understood Tyara, they knew her tough exterior was just a front. Her heart of gold and selfless nature shined through for those she loved. She loved her people hard, even with a lifetime of heartache and struggles on her shoulders. Tyara had a unique spirit in her, one that was ever present when she walked into a room. She had a love for good music, good food and good company. Most would say their best memories of Tyara involved laughing so much together that they were brought to tears.
As a young woman, Tyara was warned of the danger of pregnancy but, when finding herself pregnant, she decided to give birth to her only child. In 2008, a wonderful son, Elias Mateo, was born premature in her 25th week and, with the loving help of the JANUS PERINATAL MONDANARO BASKIN CENTER-SANTA CRUZ, Tyara brought the love of her life into the world. Elias was Tyara's greatest joy and accomplishment. She always said her son was her reason her life was worth living.
Most who knew her would say that Tyara herself was childlike in nature, always young at heart. She loved dancing and singing and being with her many friends. Although she carried her struggles with her daily, she was still the life of the party, bringing all those around her who were down, up. She loved her friends and they loved her. As she walked daily through her short time here on earth, she had so many difficulties that came her way. Somehow, in her own way, she managed to absorb them and eventually bounce back up to try again. Her suffering and pain are now over.
Tyara leaves behind her Mother, Crystal Swink-Ridino, her step father, Robert Ridino, her Father, Terence Womack, her son, Elias Azevedo, sisters, Chylanee Hatfield and Nina Dixon, a brother, Rico Womack, nieces: La'Rie, Jada, Soleil, Sanaa, Skyy, Nia, Autumn and one nephew, Nase Hatfield. She also leaves behind her stepsister Jennifer Hart and a stepbrother, Benjamin Ridino, along with many aunts, uncles and extended family and friends.
A celebration of her life and reception will be held on SUNDAY, October 27th, 2019 at the SEASCAPE GOLF CLUB, 610 Clubhouse Drive in Aptos from 1:00 to 4:30 PM.