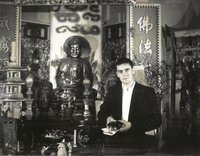 Edward Thomas "Ed" Kirkpatrick
Edward passed away unexpectedly last Sunday leaving behind many friends and his loving family. Edward was born in Belfast, Northern Ireland and immigrated to the United States in 1967. He was an Electrical Engineer working in Defense Contracting and Medical Support Technology. He was a fun, charming guy and enjoyed life greatly, even riding his beloved Triumph Bonneville 900 motorcycle to the very end, to the extreme displeasure of his cardiologist. He will be greatly missed by all.
Funeral Services will be held on Saturday September 21st at Santa Cruz Memorial, 1927 Ocean Street Extension in Santa Cruz. The Visitation will start at 12 noon, with the service and burial to follow.