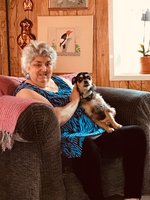 Pamela Elizabeth Pedulla
Pamela Elizabeth Pedulla was born December 21st, 1947 in the Bronx, New York she entered into rest September 1st, 2019 in Capitola, CA.
Pamela lived in Santa Cruz County for the last 45 years where she enjoyed the redwoods and the beaches of Santa Cruz County. She raised her children here and worked in the community. She had many careers over the years as a hairstylist, chef, and finally received her degree as an LVN. Pamela dedicated her final years of life to helping the elderly and disabled by providing in-home care. In a last selfless act, Pamela donated her body to science. " I only wish my death can help to heal others suffering." Pamela was a devout Christian and attended Harbor Light Church regularly until she became too ill. Pamela's final words on her will. " I am going home, smile at my passing, and live knowing there will be no more pain or shame, I will be comforted by Jesus who washed me in peace and love. Talk of me with laughter and remember my great jokes."
Pamela is survived by her two loving children Lara Murphy, Jason Murphy –Pedulla and beloved family pet ChaCha.
Memorial services are still being planned. If anyone would like to contribute to the family to cover memorial costs, contact Jason. Or through PayPal account [email protected]