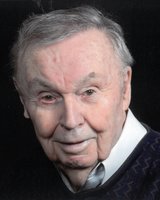 Harold "Hal" Miller
Harold "Hal" Miller was born in Hollister, California and passed away in his Scotts Valley home at the age of 90. Hal was the loving husband of Marguerite Miller and the beloved father of Tammy Holmgren (Brad) and Michael Miller. He was the cherished grandfather of Nicole Miller Kirk (Scott), great-grandfather of Charlotte and Logan and brother-in-law to Roy Banes. He was preceded in death by his parents, Jennie and Ray Miller of Hollister.
Hal served in the Merchant Marines for a year at a relatively young age, then joined the U.S. Navy when he turned 18. He was sent to the U.S. Naval Training Center in San Diego and assigned to the U.S.S. Mount McKinley in the Unit 1 Amphibious base in Coronado, California. The Mt. McKinley was sent to the South Pacific where Hal took part in the Nuclear bomb tests in Incheon, South Korea. His tour was to have ended in 1950 but President Truman extended his service for another year due to the Korean conflict.
After being discharged from the service Hal spent the early part of his career as a Salesman, first with 7-Up Bottling Company then Alco Paramount, then later became a Real Estate Broker forming his own company.
Hal met his loving wife of 61 years in San Jose where they made their first home with their children. He was a devoted father and never missed any of their events, such as Michael's basketball games or Tammy's baseball games or piano recitals. The family later moved to Santa Clara and Los Gatos, and finally built their dream home in Scotts Valley in 1991 with their son, Michael.
Hal had many interests and talents, he was an avid craftsman, a golfer, a race-car enthusiast and a die-hard 49ers fan.
The family is forever grateful to the team at Hospice of Santa Cruz County, particularly Jennifer and his nurse Lin, along with Patty, Dallas, Geraldine and his aides Maria, Belen and Daisy who helped care-give during the last month of his life.
Funeral Services for Hal will be held at 11:00am on Thursday, September 12, 2019 at San Agustin Catholic Church in Scotts Valley. In lieu of flowers, the family requests donations be made to the Alzeimer's Association (please specify to help fund research for dementia with lewy bodies) or to Hospice of Santa Cruz County.