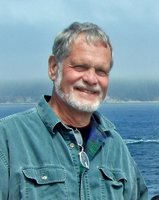 Frank DeRemer
Frank DeRemer, age 76, passed away suddenly on June 19 of a probable heart attack at his home in Santa Cruz. Frank had his first heart attack at age 47, and a second the following year. Over the years he had six angiograms and angioplasties and two cardioversions. He also was diagnosed with a bone marrow disease about 5 years ago. When told of this latest diagnosis, Frank replied, "I'm not supposed to be alive anyway". His family is extremely grateful for the extra 29 years Frank was given after his first heart attack. He was able to see his children grow to adulthood, attend college, find their spouses, and live to see two grandchildren.
Frank was the son of Howard Lewis DeRemer and Laureta Roark DeRemer. He was born in Baltimore, Maryland on Dec. 3, 1942. Frank grew up in Dallas, Texas and graduated South Oak Cliff High School in 1961. After graduating high school, Frank went to MIT where he received a BS and MS degrees in Electrical Engineering, with Honors. His Ph.D. thesis was completed in 1969 and was groundbreaking in the area of the practical translation of (designed) computer languages. Frank often joked that his PhD thesis made him "world famous", among a community of 200 people!
Frank came to Santa Cruz in 1969 as Assistant, then became Associate Professor of Computer and Information Science at UCSC. Frank taught graduate and undergraduate courses in the area of programming language design, processing, and compiler construction. He supervised several graduate students for MS and PhD degrees. Frank has published 15 major papers on topics ranging from grammars for programming languages and parsing techniques(SLR(K) and LALR(K)) to their applications. The Special Interest Group on Programming Languages (SIGPLAN) of ACM (Association for Computing Machinery) selected one of his papers, co-authored with graduate student Tom Pennello, as one of the 50 most influential and technically excellent on programming languages and their implementation during 1979-1999. He continued at UCSC until 1982.
In 1979 Frank co-founded MetaWare, Inc., with Tom Pennello, a computer software tools company that sold in 1999 to a company now part of Synopsys. MetaWare started out with Frank and Tom working out of the spare bedrooms and Frank continuing a part time position with UCSC. Before the company sold, it employed over 50 people and had offices on the westside of Santa Cruz. According to Synopsys, MetaWare's DesignWare Toolkit "builds upon a 25-year legacy of industry-leading compiler and debugger products." Frank continued as a consultant through 2006, at which time he retired.
Although reared in a Christian home, Frank walked away from the Christian faith while in college. In 1976 Frank realized his life had been empty (in spite of his professional success) and re-committed himself to being a follower of Jesus. Of this period in his life Frank wrote, "After coming back to God, and accepting His Word, the Bible, as authoritative in every area of life, I found that I felt very much a victim of the (secular) humanistic philosophies that I had followed for a while. I had 'been had'. You see, the world looks different when viewed from a Biblical perspective or worldview, as opposed to a humanistic worldview. It is still all the same data and hard facts, but the interpretation of those facts is radically different. An example is in the area of our origins: the geological and biological facts are the same, but the interpretation is different. Both views involve assumptions. Both views are thus equally religious. And both interpretations involve scientific methods applied to the same data, thus are (or can be) equally scientific."
At heart always a scientist, Frank loved combining scientific and historical studies with Biblical studies. He developed an online chronological Bible complete with notes and links for further study. He also wrote several articles and reviewed books for Christian scientific journals.
Frank enjoyed the out-of-doors; snow skiing, traveling, camping, hiking and spending time with his family. He married Lynda in Dec. of 1977. A daughter was born in 1981 and a son followed in 1984. Frank and Lynda enjoyed home-schooling their two children through the 8th grade. Of course, Frank was responsible for the science lessons! He restored several cars and RVs over the years in addition to many other design projects. Frank was a member of Twin Lakes Church and served as organizer for the greeting team. He also served as board member and volunteer CFO for The Narrow Path (a ministry of Steve Gregg, Frank's favorite Bible teacher.)
Frank will be greatly missed by his wife of 41 years, Lynda; daughter Charis (husband Chris), two grandchildren; son Elliot (wife Taylor); and a sister Judy (husband Don) of Dallas Texas. Both his parents and a younger brother preceded him in death. A memorial of Frank's life will be held on August 10th, 11:00 am at Twin Lakes Church in Aptos, CA.
Below is one of Frank's favorite stories:
God is sitting in Heaven when a scientist says to Him,
"Lord, we don't need you anymore. Science has finally figured out a way to create. In other words, we can now do what you did in the 'beginning'.
"Oh, is that so? Tell me..." replies God.
"Well", says the scientist, "we can take dirt and form it into the likeness of you and breathe life into it, thus creating man."
"Well, that's interesting. Show Me."
So the scientist bends down to the ground and starts to mold the soil.
"Oh, no, no, no...", interrupts God.
"Get your own dirt."