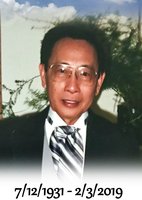 Juanito R Roman
Juanito Roman passed peacefully in his sleep on February 3, 2019 after a two year battle with prostate cancer. He was born in the Philippines on July 12, 1931 and attended Rizal High School. Having survived the Japanese invasion during World War II, he immigrated with his family to the United States on August 2, 1978 and has lived in California ever since. He worked at Intel Corporation for several years and eventually retired from Dominican Hospital after having served more than 10 years service. Juanito enjoyed spending his retirement days with his family and rooting on the local bay area football team San Francisco 49ers, enjoying a good battle watching Monday Night WWE, or pretending he was a contestant as he watched Wheel of Fortune and Jeopardy. Juanito was firmly grounded in his Catholic faith having served as a Eucharistic Minister at St. Patrick's Catholic Church in Watsonville.
He is survived by his beloved wife Zenaida and his children Eduardo Roman, Joselito Roman and his wife Luisa, Alejandro Roman and his wife Melany, Elmer Roman and his wife Brandy and Larry Roman and his wife Susan, whom he raised as his own. He is also survived by his grandchildren Robert Roman, Jonathan Roman, Michael Roman, Gabriel Roman, Simon Roman, Daphne Roman, and siblings Flora Care, Eugenio Roman, Jr., Sagrada Ramos, Asuncion Aldip and Victoria Reithknecht. He is also survived by several nieces and nephews.
A celebration of Juanito's life will be held on Saturday, February 9 at 10:00 a.m. at Holy Cross Church. Reception to follow at Dynasty Chinese Restaurant. The family would like to thank the staff at Valley Convalescent for their comfort and support they have given him during his stay at the facility.