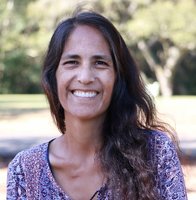 Anna Victoria ""Vicki"" DeWitt McCandless
Vicki was born in La Paz, Bolivia and was adopted as an infant by former Peace Corps Volunteers Bob and Sherrie DeWitt. She grew up in Santa Cruz, California, resided in Alturas, CA as an adult, later returning to Santa Cruz. Vicki waged a courageous battle against cancer, and was firmly grounded in her Christian faith, knowing that she would be with her Lord. Vicki is survived by daughters; Deanna Garcia (fiancée Tyler Stains) & Macy McCandless and son Sam McCandless. She is also survived by her mother, Sherrie DeWitt of Santa Cruz, father and step mother, Bob and Jan DeWitt of Santa Cruz; brother, Ryan DeWitt (Sonja) of Santa Cruz, niece Milena and nephew Max.
Vicki loved children and experienced teaching them in her time as a kindergarten aide and as a swimming instructor. She was also an instructor with the RISE program, where she influenced many young girls in a positive way. As gifted as Vicki was with children, she was empathetic to the elderly and had a way of making them feel exceptionally special. Music was a large part of her life from an early age and she was a part of her school band playing the clarinet. She also played the piano beautifully. Vicki loved the water enjoying the ocean and competing as a child on a local swim team.
A celebration of Vicki's life will be held on Saturday, February 16th, 1:00 p.m. at The Episcopal Church of Saint John the Baptist, 125 Canterbury Drive, in Aptos. A reception will be held following the service at Santa Cruz Bible Church, 440 Frederick St., Santa Cruz. The family wishes to thank the caring staff of Hospice of Santa Cruz County for their loving care of Vicki these past few months.
In lieu of flowers Vicki preferred donations be made to Hospice of Santa Cruz County, 940 Disc Dr., Scotts Valley, CA 95066 or St. Jude's Children's Research Hospital (www.stjude.org).