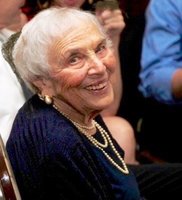 Bea Davis
Beatrice Molly Davis passed away gracefully, as she lived, on December 29th, months shy of her 96th birthday, with her loving family surrounding her. Bea's kindness, generosity, unassuming nature, striking blue eyes and her stunning smile endeared her to everyone who met her, and she will always be remembered for the fuchsia, purple and bright blue colors she loved to wear.
Bea was born in Brooklyn, New York, on Mermaid Avenue, to father Harry Beiserman and mother Tina Bernstein. She completed high school in Brooklyn and married Samuel M. Davis shortly after graduation in September of 1940. After a honeymoon at Grossinger's Resort in the Catskills, Bea and Sam settled into married life on Ocean Parkway in Brooklyn. Soon afterwards their first child, William, was born. Four years later, Carolyn was born. After WWII, Samuel moved his young family to St. Louis, Missouri, to pursue a business opportunity. Bea's city life became suburban and she learned to drive. Her youngest son, Michael, was born 7 years later.
Her life-long love of books and reading lead her to join book groups; a 25 year commitment to RIF, Reading Is Fundamental, a non-profit reading literacy program; working alongside Mrs. Graves at the Book Nook, an early independent book store in St. Louis; organizing the St. Louis JCCA book fair and taking on the role of librarian at Dominican Oaks, her new home in Santa Cruz, where she moved in 2008 to be near her daughter, Carolyn Rudolph. Bea was politically involved for the under-served, active in the local League of Women Voters. Bea was a hard worker and the job always got done if she was on your committee! Bea was also a dedicated mother, participating in her children's lives as scout leader, room mother and PTA president.
Bea and Sam were avid bridge players, which she continued to enjoy even after her move to Santa Cruz. Sadly, Bea became a young window at 42. Michael, her youngest, was only 13 at time. Bea wholeheartedly took on the role of both mother and father to her children. She never missed a birthday and organized family reunions. She had the gift of being supportive without judgment of her children, their spouses, grandchildren and great grandchildren. Bea enjoyed her hiking groups and travels with Alder Hostel. She was also a Court Appointed Special Advocate (CASA) for a child. Bea was adored by her family and became a favorite of all who interacted with her.
Bea is survived by her daughter Carolyn Rudolph (Rudy) of Santa Cruz, son Bill (Judy), son, Michael (Donna), all of New York; her grandchildren Adam (Amy), Dan, Sam (Renee), Zach, Nicole, Sam and Lulu; her cherished great-grandchildren Hannah, Gabe, Dorothy "that little red head" and Heidi; special nieces Tina and Jan, and nephew Chet. Lastly, the family wishes to thank Bea's caregiver Lorraine for years of dedication to her wellbeing.
Family will gather in April, Bea's birthday month, to scatter her ashes in the waters off Coney Island, a place that holds cherished memories from her childhood summers.