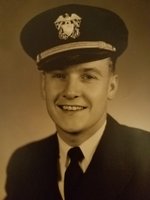 James "Jim" David Stilleke
James Stilleke, 88, passed peacefully after a brief illness on December 31, 2018 in Santa Cruz. He is honored and loved in death as he was in life. Jim, to those who knew him best, was a native of Sacramento and graduated from the California Maritime Academy, now California State University Maritime Academy, in Vallejo. After graduation Jim signed on with the American President Lines and served on a Victory ship, a class of cargo ship, where his travels led to ports in the Far East and Europe. At the start of the Korean War, Jim was drafted into the United States Navy and achieved the rank of Lieutenant. He was a proud veteran and would periodically regale family or friends with a story of his life in the Navy, or as a Merchant Marine.
In 1954, he married Antonia "Ann" Velaga and they started their life together in Long Beach, then moved to Manteca and then onto San Jose. In February of 1968 they settled in Soquel where together they owned and operated Dave's Motor Clinic, a small engine repair shop, for 22 years. Jim was dedicated to his family and to helping others to whom he was close to in his life. He will be remembered for the summer vegetable gardens that were typically one-tenth the size of an acre, which brought him great pride and enjoyment.
Jim is survived by his son Rich, his daughter Joan, nephew Steve Stilleke of Salt Lake City, Utah, niece Elizabeth Ceronia (Stilleke) of Gardner, MA, and niece Diann Velaga of Sacramento. He is also survived by his sister-in-laws, Lee Kempter of Pleasant Hill, Elizabeth (Babe) Velaga, and Millie Velaga, both of Sacramento. He was preceded in death by his wife Ann, his parents Dave and Maude Stilleke, and his brother Donald (Don) Stilleke.
The family wishes to thank Cebu Caregivers (Ophelia, Josh, Marivic and Noriel) for their generous care and support in working patiently with him to find the best, most comfortable and easy transition to the end of his life.
A graveside service will be held on Sunday, January 13th at Oakwood Memorial Park in Santa Cruz at 10:00am.