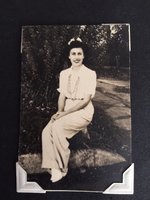 Eleanor "Ellie" Sturtevant
Eleonora "Ellie" Zelinda Sturtevant was born in an Italian enclave in Merced, California and passed away peacefully in Santa Cruz on December 19th. Her parents, Colomba Cuneo and Joseph Canepa had migrated to the Central Valley just a few years earlier from Italy. Her father, Joseph Canepa, contracted pneumonia and passed away when she was only 3 years old. Her mother remarried Gisperto Giobetti who raised her, her older sister Louise and her stepbrother Leo on a tomato farm in Merced.
In her early years Ellie and her sister Louise worked at the Air Force base in Merced. She was a great dancer and often made her way to the Coconut Grove in Santa Cruz for the big band music of the day. Ellie then married Lester Wayne Sturtevant in the early 1950's and they started a family in Santa Cruz. Later on they bought one of the first tract homes in Santa Clara when that area was still mostly orchards. Besides being the world's greatest mom, she worked at a small newspaper in Cupertino with her long-time friend, Ivy Fox. In 1969 Ellie and Wayne moved back to Santa Cruz and started the first floor covering store in the county called the Carpet King. They purchased a property on Cherryvale Avenue in Soquel and built a two-story family home. The family had horses, chickens, rabbits and even a sheep, and Ellie's kitchen was always open for homemade meals. Ellie was famous for her spaghetti sauce, minestrone soup, apple crisp, canned cherries and pickles. Friends and family were always welcome and her rose garden was a true sight to behold. In her later years Ellie was the bookkeeper for the Edgewater, Deer Park Tavern and the Green Valley Grill.
Ellie is survived by her older sister Louise Silva, her sons, Don Sturtevant and Dean (Rochelle) Sturtevant, stepdaughter Diane (Blair) Jackson, her nieces Roxanne Sherman, Laurel Mancebo and Patti Giobetti and her nephews John and Billy Giobetti. Ellie also had 15 grandchildren and numerous great-grandchildren.