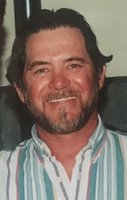 Anthony Keith Capdepon Sr.
Keith Capdepon passed away at 4:55 pm on Monday, December 17th surrounded by his loving family. He was born in Houston, Texas to the late Alfred and Catherine Capdepon. He met his wife Linda and started working as a Pile Driver in 1965, then served in the U.S. Army during the Vietnam War from 1966-1967, receiving a Bronze Star and Purple Heart for his honorable service. In 1982, Keith and his family relocated to Santa Cruz, and he became a Union Pile Driver for the Local 34 until he retired at the age of 64.
Keith is survived by his loving wife of 52 years, Linda Goff Capdepon, his two sons, Anthony Keith, Jr. and Brandon (Katie Rush), his three grandchildren, Sean, Julia and Carson, his brother Alfred Capdepon, Jr. and other extended family in Mississippi, Texas and Washington. Papa will be forever in our hearts.
A Memorial Service for Keith will be held on Saturday, January 12, 2019 at 2:00 pm at Oakwood Memorial Chapel, 3301 Paul Sweet Road, Santa Cruz with a reception to follow at Back Nine Grill and Bar, 555 Highway 17 in Santa Cruz.