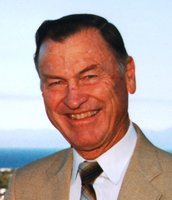 Raymond "Ray" Goodrich
Raymond Henson Goodrich passed away peacefully in Santa Cruz shortly before his 99th birthday. He was born in Tahoka, Texas, the eighth of the nine children of S.B. and Eunie May Goodrich. Following his graduation from Amarillo High School, Raymond attended Texas Tech University, excelling as a student and serving as president of the Senior Class and the Debate Society. On behalf of his fellow seniors he successfully advocated for accelerated graduation for those enlisting in the war effort. Receiving his B.A. in Government early in 1942, he enlisted in the Navy. In January 1943, Raymond married his high school sweetheart and college classmate, Dorothea Dell "Dede" Scheihagen.
During the war years, Raymond served as a naval officer and pilot, developing a lifelong love for flying. His skill for aircraft carrier landings and his natural aptitude as a teacher led to multiple assignments to train new naval aviators. Following his release from active duty in October 1946, Raymond was able through the GI Bill to attend Stanford Law School, from which he graduated in 1949.
In late 1949, Raymond and Dede already had three children and were looking for a place to settle. As a naval reserve officer during his time at Stanford, he often flew up and down California and decided after many flyovers that either Santa Rosa or Santa Cruz would be the right place to practice law and raise a family. Raymond moved to Santa Cruz in 1950 to work in the law practice of Stanford Smith. Other than a call up to active duty in San Diego that same year, Santa Cruz would be his home for the rest of his life.
Raymond established his own law practice, expanded his family to five children, and became engaged in community life. He and Dede were active in supporting many local organizations including the Santa Cruz Symphony and the First Presbyterian Church, where Raymond served as a Trustee and Dede served on Session. Raymond served as the Master of the Santa Cruz San Lorenzo Valley Masonic Lodge in 1962. He was elected to the Santa Cruz City Council and then served as mayor in 1968-1969. Raymond and Dede were active supporters of the American Field Service (AFS) student exchange program: their daughter Pamela was an exchange student to Uruguay, and their son David was an exchange student to India. Raymond and his family hosted their Swiss AFS "son" Jürg Ambühl in their Santa Cruz home in 1966-1967, developing a lifelong friendship between the two families.
A skilled navigator, Raymond had a wall of aviation maps in his law office to help plot the course of his next flight. Piloting his small plane, he flew his friends and family throughout the western states and Mexico. With great reluctance he gave up flying in his early eighties.
Raymond loved hunting and hunting dogs. He became involved in American Kennel Club Retriever Field Trials in the mid-1960s and trained a succession of very successful Labrador retrievers, of which two were inducted into the Retriever Hall of Fame. Unlike many owners competing in these field trials, Raymond was an accomplished handler who trained all his dogs himself. He was also a respected judge who judged 42 major stakes, including two National Championships, and was inducted into the Retriever Hall of Fame in 2014. He and his business partner hosted National Retriever Field Trial competitions at his ranch near Oakdale for many years, and he continued active field work with fellow enthusiasts on a daily basis until 2017.
Raymond loved the practice of law and provided valuable advice and counsel to his innumerable clients over 50 years. He will be remembered by his many friends as a true gentleman: strong, determined, honest, frank and with a deep love for his wife and family.
Raymond was predeceased by his wife of 71 years, Dede Goodrich. Raymond is survived by his five children: James (Cynthia) Goodrich, Pamela (Brian) Cooke, David (Brian) Goodrich, Paul (Jean) Goodrich, and Janie (EY) Snowden; his AFS son Jürg (Gioia) Ambühl ; nine grandchildren: Lisa (Chris), Jessica (Ryan), Ramana (Mischa), Käthlin (John), Jake (Chelsea), Mallory, Elisabeth, Sophie (Thaïs), and Petra; his AFS granddaughter, Flurina; and five great-grandchildren: Micah, Elliot, Max, Mila and Nora.
Funeral services will be held at Oakwood Chapel, 3301 Paul Sweet Road, Santa Cruz, at 10:00 on Saturday, January 5, 2019. In lieu of flowers, the family requests that donations in Raymond's memory be made to a charity of the donor's choosing.